The Board of Directors of the Cabrillo Economic Development Corporation (CEDC) is pleased to welcome the addition of housing attorney Ada Cordero-Sacks to its Board of Directors.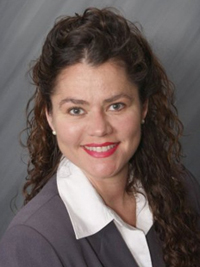 Principal of the Law Offices of Ada R. Cordero-Sacks, she is one of Los Angeles' premier multifamily housing attorneys. An expert in guiding projects through state and federal housing agencies, Cordero-Sacks has helped to create numerous affordable housing projects. Her specialties include representing affordable housing developers of multifamily housing projects from pre-development to placed-in-service; Representing nonprofit owners in refinancing and/or selling their HUD-insured 202/236 projects, transfer of physical assets; as well as representing owners in asset-management compliance issues and unlawful detainers. She also practices immigration law and is a native Spanish speaker.
Prior to going into private practice, Cordero-Sacks worked as an attorney for the Housing Authority of the City of Los Angeles, Federal Department of Housing and Urban Development, and the Community Development Commission of the County of Los Angeles. She is also a member of the American Bar Association (Affordable Housing section), Los Angeles County Bar Association, Southern California Association of Nonprofit Housing, Apartment Association of Greater Los Angeles, Mexican American Bar Association, and Delta Theta Phi Law fraternity.
Cordero-Sacks has a Bachelor of Arts degree in Political Science and a Master of Arts in Urban Planning, both from the University of California at Los Angeles. She also earned a Juris Doctorate at the University of West Los Angeles.
"On behalf of the Board of Directors, we are delighted to have someone with Ada's caliber of expertise in affordable housing  providing leadership to Cabrillo, especially as we undertake a major strategic planning effort," said Dave Sabedra, President of CEDC's Board. "She will be a great asset."