During these uncertain times when food is running low, Cabrillo's Azahar Place Apartments, with the help of FOOD Share of Ventura County is providing food distributions to our properties and our community.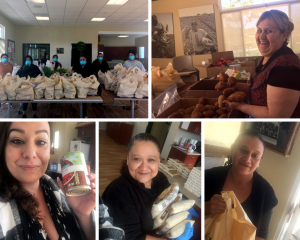 Azahar's dream team volunteers, the Las Capitanas, came together Thursday to ensure this community has what it needs.
Residents, Veronica Garcia, Nancy Zendejas, Erika Palomar, Zeinada Negrete, Maria Soto, Leti Chavez-Pina and Edith Rodriguez; Manager Gabby Vignone; and Maintenance staff Sammy Belmontes, Gerardo Ortiz and Jerry Villa, picked up food at FOODShare and volunteers bagged and distributed it to families in need.
"We are so thankful that we were able to be giving back in times like these," Vignone said.
Azahar Place Apartments, 11370 Mimosa St, in Ventura, conducts FOOD Share distributions from 4:30 to 5:30 p.m. the first Wednesday of each month (USDA distribution) and from 5:30 -6:30 p.m. the third Wednesday of each month (USDA distribution). These events are open to the public.
Cabrillo also hosts FOODShare distributions from 1 to 2 p.m. on the second and fourth Friday of each month at The Santa Paulan Apartments, 114 N. Fourth St., Santa Paula.