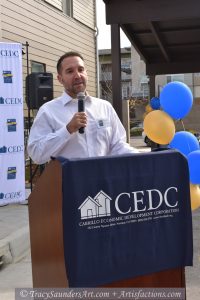 Cabrillo Economic Development Corporation brought its latest affordable housing development to completion with a grand opening celebration on Friday, Nov. 15.
Among the notable speakers at the event, Ventura Mayor Matt LaVere said he is often asked what the one thing he worries about most at night.
His answer: "The thing that concerns me the most is when I see an ever-increasing affordability gap. It is getting harder and harder for the average person, man and woman, to live here. That is why projects like this are so important. We need affordable housing in our community. If we become a community of haves and have-nots, it will not be a strong, thriving community," he said.
Taking from the challenge issued by Cabrillo Economic Development Corporation CEO Margarita H. de Escontrias in her opening remarks, LaVere he said it is important that people have the courage to have hard conversations with elected officials about affordable housing.
"It's a really important statement because there is always a vocal minority who will stand up and say we don't need more affordable housing or it's too crowded. Local elected officials and even people like you here need to have the backbone to stand up to those people and recognized affordable housing needs. That is why I am so honored to be here celebrating the opening of this project. We need more celebrations just like this," he said to the crowd of nearly 100 people in attendance.
Snapdragon Place Apartments, Phase II, is a newly constructed development of 22 units at 995 Los Angeles Avenue in Ventura. The development will share a community room with Phase I of Snapdragon Place Apartments, a 28-unit farmworker development that was completed in 2015.
Cabrillo developed the project in partnership with the Housing Authority of San Buenaventura, which will manage the property that includes 11 special needs units, of which four one-bedroom units are designated for homeless veterans through the Veterans Affairs Supportive Housing (VASH) program and seven non-VASH units. All units, except for the manager's unit, will have Section 8 vouchers for families and individuals with incomes between 30 to 60 percent of the area median income.
New residents Pricilla Smith and Liza Fernandez, both formerly homeless with children, shared their stories with event attendees, who included architects, builders, project funders, elected officials, services providers and residents of both phases of Snapdragon Place Apartments.
Both residents lauded the work of the Ventura County Behavioral Health caseworkers and therapist as key to getting them back on their feet and helping them through the application and interview process to obtain their new apartments.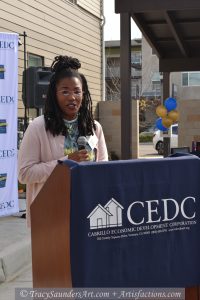 Smith, 35, a 35-year-old former Mississippi resident who moved here with her daughter said the transition has not been pleasant.
"We were living in motels, living on the beach, in shelters and things like that. Since I've been here (at Snapdragon II), I've received a lot of support. Support from staff here, from Behavioral Health, from my therapist and their team interviewing and helping us get a home. We are now actually in recovery from homelessness," she said.
"For a person who normally doesn't get this kind of help, they made the impossible possible. I just want to say how much I appreciate it. Hopefully, I can give back. I'm now in school studying sociology and my goal is to help other people like me," Smith said.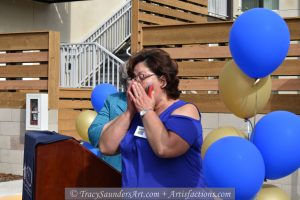 Fernandez, a mother of three boys ages 28, 23 and 15, says she was force to spend time away from her children. She said the older boys would sleep in their cars and the youngest would sleep with friends in her congregation.
"It was hard to be apart from my boys. I had to sleep in the street and the beach. It was very hard and very challenging emotionally and mentally, especially mentally. … Now I can comfort them. They don't have to sleep in their cars. They don't have to worry about taking a shower. I wake up in the morning and I feel like a mom again," Fernandez said.
"It's a great feeling to feel that way again. They opened the door for me. It is a beautiful place and I am very grateful and thankful for the opportunity to be a mom and a place to call my home," she said.
"It's a big day for us," Ventura County Behavioral Health Director Dr. Sevet Johsnson said. "It's not every day that the Behavioral Health Department can welcome seven of our client families to a home. If you see them, they are not just a home. They are thoughtful homes. There is dedicated outdoor space and it is where families can be raised and somewhere children, the future of Ventura County, can be and feel safe and secure, and that is extremely important.
"I am extremely excited. We know there is a shortage of housing in Ventura County, and this is another step in the right direction, so welcome home," Johnson said.
To read more about the Grand Opening, read the articles in the Ventura County Star.
and the Ventura Breeze.
For more photos of the event, visit TracySaundersArt.com +Artisfactions.com