CEO Message from Margarita H. de Escontrias: As Thanksgiving approaches, I would like to express my gratitude for the generosity of our donors and community and business partners throughout the year. We can accomplish great things with your help.
Your gifts bring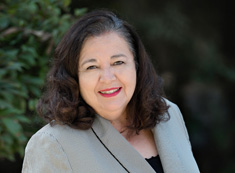 new opportunities to move forward with more affordable housing projects and provide necessary educational, health and support services to low-income families, farmworkers, seniors, veterans and individuals with disabilities in our community.
I am truly grateful to you for continuing to keep Cabrillo and our mission on your minds during the holiday season with your Amazon Smile purchases, and Giving Tuesday and year-end donations.
I am excited about the difference we can make together with the support of our community and dedicated staff with Phase II of Snapdragon Place under construction and our new development on Etting Road in predevelopment. These two projects alone will provide 64 units of much-needed housing for veterans, low-income families and farmworkers.
On behalf of Cabrillo, I wish you a wonderful holiday season and a joyous New Year.