Sigifredo Avina Vasquez, Eloisa Avina, and their children Mariela, Daniel, Sigifredo, and David are residents of Villa Cesar Chavez a Cabrillo Economic Development Corporation property. The family of six had been living in cramped quarters in a small one-bedroom apartment before moving to Villa Cesar Chavez. They now reside in a townhome with three bedrooms, modern amenities, and a two-car attached garage. This new space gives the family room to spread out, while the children have quiet areas to complete their homework and the parents can relax after long work days.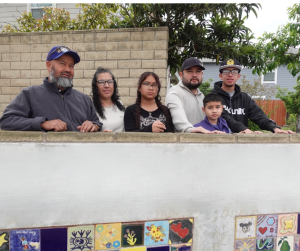 (photo from l to r: Sigifredo, Eloisa, Mariela, Daniel, Sigifredo, and David)
The Avina family has become valuable and loved Villa Cesar Chavez, community members. They actively participate in monthly community meetings, are always willing to assist with event setup and cleanup and contribute to potluck gatherings and resident activity booths. The residents of Villa Cesar Chavez have created a supportive community, and the Avina family plays an active role within it.
Additionally, they have used the supportive services provided by Cabrillo EDC. Sigifredo has attended ESL classes on the property, and the children have taken advantage of many youth activities. Their son David is a past recipient of the Rodney Fernandez Leadership Fund Scholarship, which has kept him motivated and focused on his studies while he attends Oxnard College.